Looking for Coating Professionals who take on all challenges together with the customer? Welcome to Lely Coatings!
We supply suitable paint and coating systems plus accessories for almost all surfaces. "Flexibility, a large stock and thinking in terms of solutions, that is what sets us apart."
From our head office in Etten-Leur we have been focusing on industry, powder coating industry, metal processing, carpentry, agricultural vehicles and truck coating since 1986. We have a No-Nonsense policy, like everyone else we don't like unnecessary bureaucracy or administration. It is still possible with us; 'call and order' and within a radius of fifty kilometers, an order arrives at the customer the same afternoon.
Everything for the Color
Lely Coatings employs real color masters who can make colors in any desired paint system on the basis of a color sample, without any reference. To do this perfectly, in addition to modern equipment, a lot of experience, plus a good eye, is required. This is one of the specialties of Lely Coatings.
Large Stock
Speed ​​is essential for our customers and their customers. Together with our renowned suppliers, we ensure that we have the right products in stock in the right quantity or that we can deliver them at short notice. We go very far in this and use purchasing channels at home and abroad. The majority of our customers would like us to unburden them. This also includes keeping specific stock items like customer branded products with their name and logo on it.
Additional services
Director Dick van der Lely explains: "Companies are increasingly looking for a solution for the storage and distribution of their own paint products. Here we offer a warehousing solution that meets the highest environmental and safety requirements. In addition, we can also offer additional services such as 'just in time' distribution, filling, repackaging and color making. Mostly international customers without their own footprint in the Netherlands benefit from this."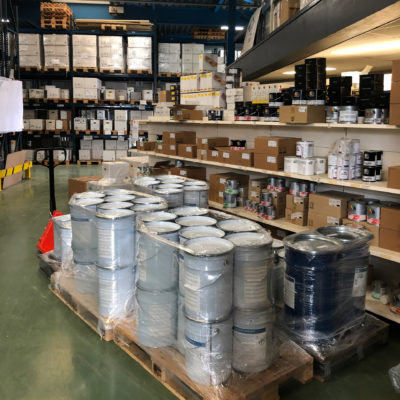 Our customers and partners
We engage and value long-term relationships based on trust. Many of the customers have been with us since 1986 and the same applies to our partners/suppliers. In addition to supplying well-known products from the most prominent paint/coating producers, we distinguish ourselves above all through our experience and knowledge. We stand behind our products and support our customers with sound advice. In addition, we strongly believe in cooperation. Due to our extensive network and diverse customer groups, we often find a good match of companies and services. In this way we build a strong network together.
Sustainability
Standing still is not an option, you have to keep innovating and do so continuously. Sustainability is a hot topic in the coating world. Take, for example, Powder coatings with little or no VOC emissions. Performance coatings are also gaining ground, such as nano coatings. We are currently focusing on the introduction of a revolutionary white high reflective coating for flat roofs that extends its lifespan by up to 25 years and reduces energy consumption by up to 30%.
Phone call
In the age of Social Media, online communication and online shopping, we notice that a large part of our customers still pick up the phone. And let's face it how easy is that? We can handle everything in one go, ordering, checking availability and giving advise. Even specific wishes regarding delivery, such as "put the products next to the letterbox". The extra personal attention, flexibility, passion for customer and product is what sets us apart.